All encompassing Canvas man
We own a 2000 Maxum express cruiser boat that while in good shape needed some TLC. When talking with our mechanic, he mentioned that Canvas John would be able to accommodate all the different project we wanted to get done in our restoration of this great older boat. We couldn't have made a better choice in picking this guy. In the course of 8 months, Canvas John completely redid our Bimini top, designed and built a full isinglass enclosure, marina back drop privacy enclosure with access door from the transom, replaced all the carpet throughout the upstairs and completely redid all the upholstery (14 pieces total) and made them have the same look and stitching as originally done by the factory. The boat looks like it is showroom new throughout. People that see the boat have a hard time believing the boat is 20 years old. My wife and I would recommend Canvas John to anyone needing any work that evolves stitching for a boat or land. We have and will continue to recommend Canvas John to others.
David Strom
Great Service
Needed new seats for my 1998 Cruiser Yacht 3375 and John did a better job than the original seats that came with the boat! Thanks John!
Bob Johnson
Great job!
I had Canvas John replace my seats on my 2005 Sea Ray 390 Sundancer and they look better than the originals and the quality is better too. I'll be coming back for some canvas work soon.
Tim Malone
Excellent work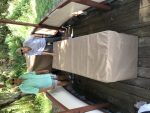 CanvasJohn recently made covers for our Pioneer Replica tour boat at Historic Spanish Point in Osprey. John's work is excellent and his expertise on what materials to use was spot on!
We highly recommend him.
Marianne from Spanish Point
I cannot express enough how happy I was with the final job
I own a 1997 SeaRay 330 Sundancer. This boat has always been kept in a covered slip so the general condition of the canvas is very good. However, the front and side eisenglass after years of being taken down, stored (never correctly) and reinstalled was very poor. All five panels (3 front and 2 side) were cloudy and badly scratched and the zippers on all panels as well as the roof panel to which they attached were coming unstitched. I contracted with Canvas John to have all five panels remade completely with new zippers to include new zippers for the roof panel and also have the roof panel completely restitched. John was also to do away with the old rubber insert application method at the bottom of the windscreen (a total pain in the butt) and replace with a regular snap application. I cannot express enough how happy I was with the final job. The fit and finish was excellent and the materials used were all first grade. The boat now looks newer than it did before he started and all at a very reasonable cost. I do not hesitate to recommend Canvas John to anyone looking for high quality canvas work at reasonable prices. In fact, I had recommended him to two of my friends before even writing this testimonial.
Doug Bridle
Great Mooring Cover
Canvas John built a great mooring cover with Sunbrella fabric for 26 ft pontoon boat.
Phil Loudon
Cockpit Cover Exceeded My Expectations
Canvas John helped me out in a bit of a bind. The time I gave him was short as I was in town for a few days. The quality of my cockpit cover exceeded my expectations. I would recommend Johns work to any of my friends and that says a lot. Can't thank you guys enough.
Jim Mero